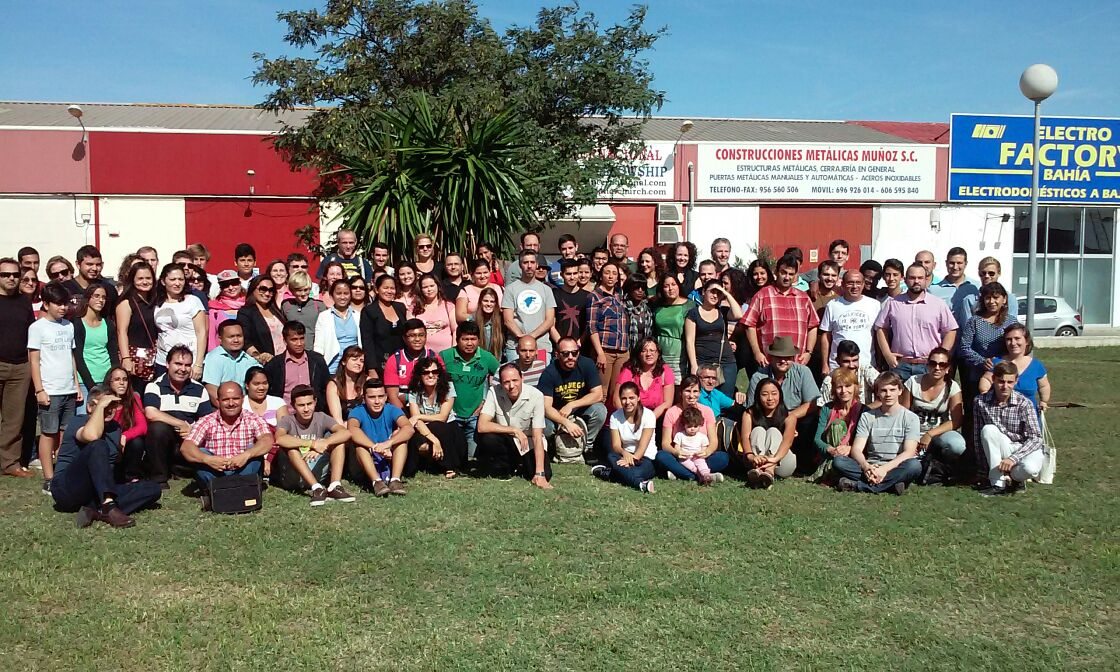 All Nations Christian Fellowship
FEIC Member Church Spotlight
All Nations Christian Fellowship
Pastors Jose and Carlotta Almarza
The FEIC Member Church Spotlight is a feature in which we interview pastors of member churches and learn about their history, what makes the church unique and their current ministry focus. 
This interview features Jose and Carlotta Almarza, pastors of All Nations Christian Fellowship in El Puerto de Santa Maria, Spain. 
Tell us about All Nations Christian Fellowship.
All Nations Christian Fellowship was founded in 1967, so this year we will be celebrating our 50th anniversary. It was planted to serve the American Naval Base in Rota, but it now reaches beyond the Base. It has been an English-only church for most of her life but has been a totally bilingual church for about 7 years. We now have about 130 active members. Because of its turnover, growth is not exponential but we get to send people all over the world!
Describe All Nations in terms of your 'international culture'. 
We do everything in English and Spanish: worship, preaching, kids, prayer, etc. We have people coming from different backgrounds and cultures. We have Americans and Spaniards from the Naval base in Rota and San Fernando, also from the International flight school in Jerez (Dutch, South Africans, British, etc.) plus Filipinos,  Latin Americans, Swiss, Germans, Ukraine, Indians and Chinese.
Do you have a special focus or theme for 2017?  
This year is the 500th anniversary of the Protestant Reformation so we have been studying the book of Romans and the "Solas" of Luther:
Sola Gratia: by grace alone
Sola Scriptura: the Word only
Sola Fide (by faith alone
Soli Deo Gloria: to God alone be the glory
Solo Christus: by Christ alone
We have also joined the Bible Society in giving away a special edition of the Bible to commemorate this event. Our church will be giving over 120 Bibles as special and individual gifts throughout this year.
Tell us about some challenges you guys have successfully led your church through. What did you learn from this that you could share with us?
When we came to pastor this church had been without a pastor for over two years. The church was very small, there were people who had suffered great losses and were still grieving as they hadn't had a pastor. But as we listened to them and prayed for them they have blossomed and are serving in the church and helping others. There was a lot of strife and conflict and the first years were very difficult. But as we moved slowly, we gained the people's trust and have been able to see the church move forward in their walk with God and hunger for more of His Holy Spirit. Being that the church is multidenominational it has been a huge challenge to move forward in what we know God has for each believer but God has His timing and He is working deep in people's lives.
What is the next step for your church in terms of growth and the future?
Our church growth is determined by the people we have in the congregation every year. We rely on people's gifts and availability so every year it's an adventure.
How can fellow FEIC churches pray for your church?
Please pray as we teach about the Holy Spirit, that people will receive all that God has for them.
Pray for wisdom for us as pastors and for the pastoral team.
For laborers to come and help us.
And for a renewed love for the people.
Church contact information:
Lead Pastor(s): Jose and Carlota Almarza
Church name: All Nations Christian Fellowship
Church Address: C/ Río Barbate s/n. 11500 El Puerto de Santa María.
Church Website: allnationsrise.org
Church E-mail: [email protected]