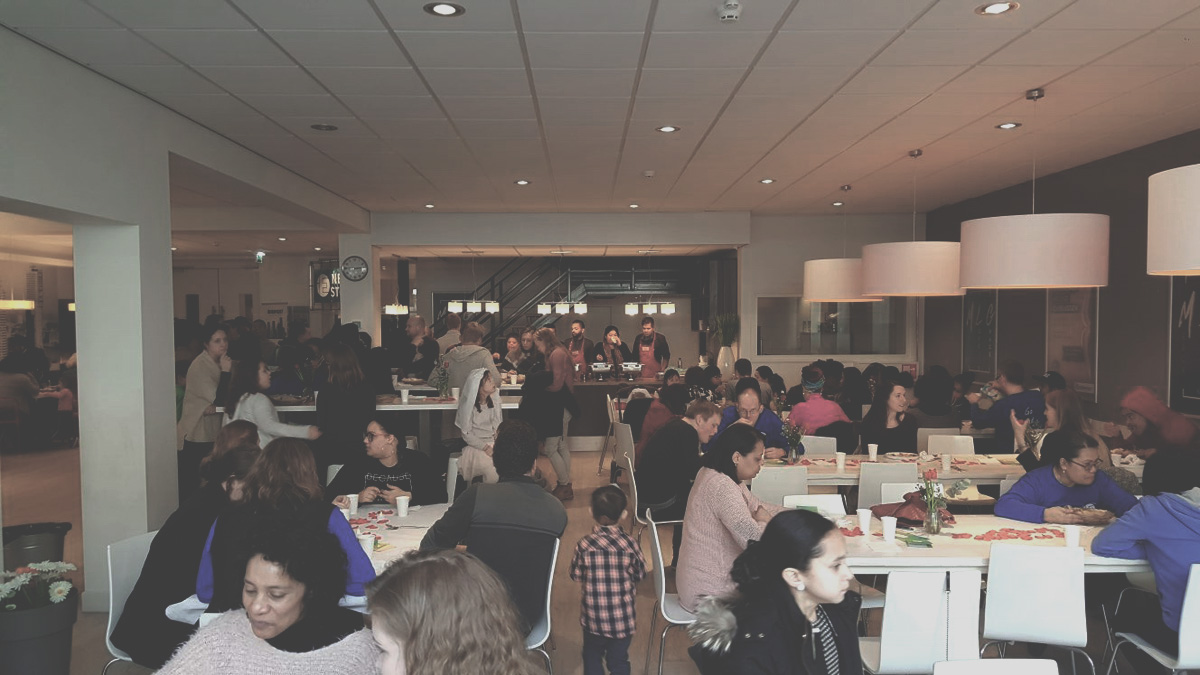 Europoort International Church
FEIC Member Church Spotlight
Europoort International Church
Pastor Ken Linneweh
The FEIC Member Church Spotlight is a new feature of the Fellowship of European International Churches' website. In this feature, we interview pastors of member churches and learn about their history, what makes the church unique and their current ministry focus.
1) Please give us a brief overview of your church's history and the progress it has made to date.
We started our first international church in Maastricht: Damascus Road International Church. A fairy tale of a city full of international students at the university was a church planter's dream. Beautiful young people full of the passion and dreams of a life just beginning to unfold.
Fast forward to Rotterdam, the largest and the poorest city in The Netherlands. Its color is grey and brown and a rough wind, tinged with violence blows. Frustration walks the street and displaced people hide in the shadows. This is where we're planting 'Europoort International Church' (EIC).
Why did the Lord send us here, the one city we didn't want to go to. Where are our cute students? Where is the beautiful Dutch architecture?
Rotterdam was leveled by German bombs in World War 2 and is called the city without a heart. But God wants the heart of the city to beat with His heart as His plans are activated and unfolding. He has asked us to be a small part of them by starting an international church within an existing Dutch church in the heart of the city. The first chapter is now being written but the author is famous, panned by some, celebrated by others. We are the rough hewn paper that he will write on. We started in mid-October and the story is just beginning.
2) What is the next step for your church in terms of growth and the future?
As a new church we want to grow because that means we are on the right path and we doing our job to reach the lost and the city of Rotterdam. We are working on bringing awareness to the city that we exist and build a relational opportunity to meet other internationals. It can be lonely when you are no longer home and may not speak the language. The future belongs to God. Let us be faithful.
3) Do you have a special focus or theme for 2017? If so, how are you planning to develop that?
Our focus this year is simple. We are in the building stage and we want to build a strong foundation built on Jesus and not ourselves. We are developing a sense of family where we can all belong and feel accepted. We are becoming a community and we emphasize that at every service. Basic preaching that can tear down previous cultural variations in doctrine is a goal to level all of us to what the Bible truly teaches; a Jesus culture.
4) Describe your church in terms of your 'international culture'. What kinds of folks typically attend?
Rotterdam is over +50% non-Dutch and a great city to reach the world. When you walk out the doors of EIC you feel like you are in Istanbul. The western-born person on the street is probably 1 in 10. It is therefore reasonable to expect the congregation to be a mirror of your surroundings. People who have come to "check out" the new kid on the block have been from Africa, Indonesia, the old Dutch colonies, England, America, Estonia, Armenia and the Middle East. Also we have some of these people married to Dutch nationals.
Because of the inner city location of the church we also have some spontaneous visits from people with addictions. There is Erasmus University and Colleges with over 60,000 students, some international. We want to find a way in to meet and reach them. Our area director visited the church recently and told us we are a migrant church. God unfolds as He will and he loves them all.
5) Tell us about some challenges you guys have successfully led your church through. What did you learn from this that you could share with us?
Since EIC is new, the plans God has for it are still unfolding. We have the challenge of embracing and releasing "our" plans to follow a more divine design and the greater vision of our Dutch hosts, Evangelism Center Europoort. We have to resist comparing this new church (EIC) with Damascus Road in Maastricht or using the same pattern of development that worked so well. Rotterdam is a different city and as we all are made uniquely, so is every new church. This means not relying on the victories of the past, which would be easy, but pressing forward with purpose to discover what God wants EIC to become.
6) Are you facing any challenges right now that you'd like to share?
Rotterdam is a large city (2.1 million) with an extremely diverse culture. We have everything from street people, alcoholics, druggies, extremely large middle-eastern base (Muslim mayor), hard-nosed Dutch and Expats everywhere. It is hard to reach them all well because it is so diverse with much cultural 'baggage' differences.
Since there are about 60,000 students here, we would like to reach them better. It has been difficult to work with existing campus organizations and it seems hard to break in to that environment. We could really use a Campus Outreach person as well as a Children's pastor/director to help kick-start these huge areas of need.
Working within a Dutch-church context also has its trials. Staying under one vision, remaining true to that existing Dutch mother-church vision, yet attempting to exercise the vision God is showing us in order to reach immigrants and internationals sometimes has its confinements and compromises. It definitely requires much more energy to pull that off!
7) How can fellow FEIC churches pray for your church?
Please pray for us, the Linnewehs, that we will be able to lead this new work with vision, faith, purpose and humility. We have a national team of around 15 people from the Dutch church who have volunteered to help us launch EIC. Europeans have different values than their crazy American counterparts. They value relaxation and free time and push back against too many tasks, hours or expectations. Pray that their desire to reach their city will grow and they will find energy and joy in serving. Pray we can love and lead Rotterdam to the Lord and point them to the plans God has for their lives. Pray we can build a lasting work that will grow and thrive beyond us.
8) Church contact information:
Lead Pastor(s): Kent & Leslie Linneweh
Church name: Europoort International Church (EIC)
Church Address: Nieuwe Binnenweg 324-26
Church Website: www.europoortinternational.nl
Church E-mail: [email protected]