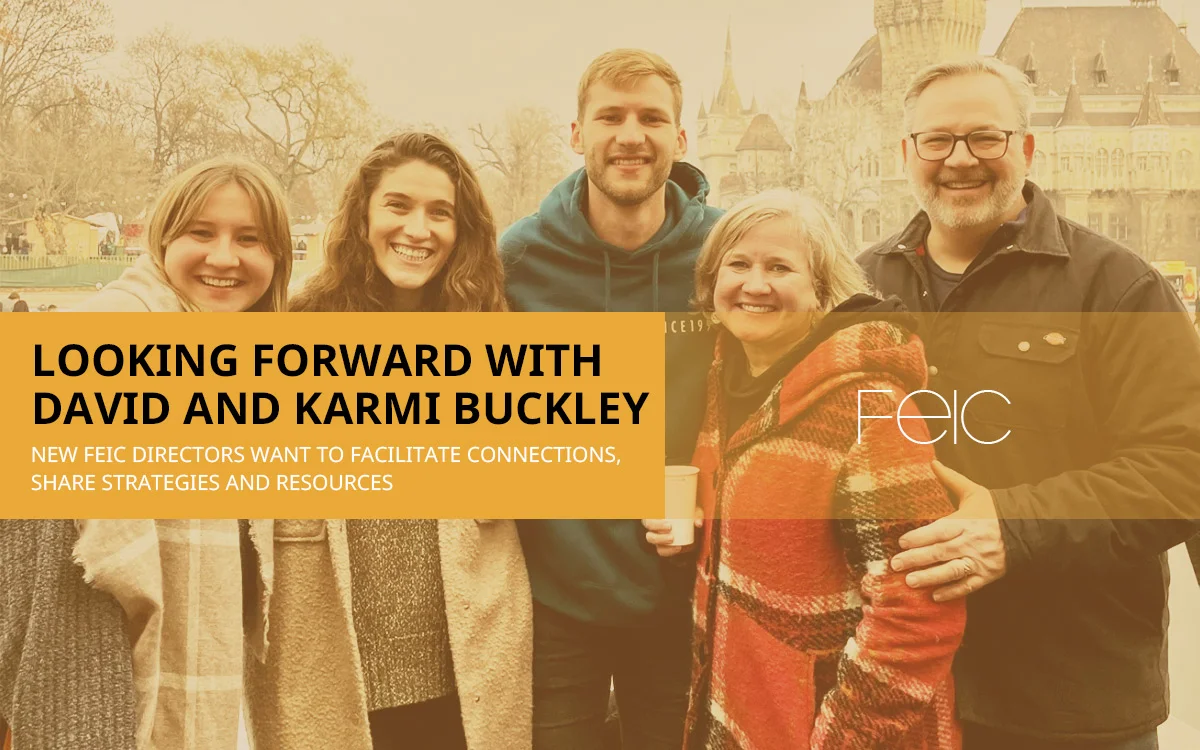 Looking Forward with David and Karmi Buckley
David and Karmi Buckley were celebrated as the new directors of the Fellowship of European International Churches during the 2022 Summit in Milan.
As more than 75 FEIC-member pastors and leaders looked on, former directors Larry and Melinda Henderson prayed over the Buckleys and welcomed them to their new leadership role.
"The Buckleys have been active in FEIC since they founded Riverside Church Budapest in 2014," said Larry. "They bring with them 25 years of experience working in the European context as well as a passion for international church ministry. We are thrilled to have them leading the network."
I'd Preach as if the Room Was Full!
The Buckley's call to Europe began in 1999 when they learned the Hungarian language and started multiple Students for Christ groups in Hungary. They returned to the USA for four years where Karmi served as Director of 'Europe's Children', a program of the Assemblies of God World Missions, but returned to Hungary to plant an international church in Budapest at the invitation of the Hungarian Pentecostal Fellowship.
The Buckleys remember the early days of planting Riverside when they welcomed 21 people at the first service, but saw the numbers drop to seven by the third week. "Planting this church has been one of the hardest things we've ever done," said David. "When the numbers dropped to seven, the one non-team member – who happened to be the son of a church planter – said, 'I'd preach as if the room was full!'
The Buckleys took that advice and God honored those early days of small beginnings and simple worship.
Since then, Riverside Church Budapest has grown to more than 200 – a growth that has necessitated three moves to enlarge space. And as expats, nationals, students, and embassy workers have found a home at Riverside, more than 40 nations have come through the doors.
"In the past eight years, we have weathered Covid-19 restrictions and other challenges including a building project that stretched both our budget and our faith," said David. "But with God's help we now have a beautiful facility that is used throughout the week."
The World Has Come to Riverside
"International churches are vital in reaching Europe," said David. "When we look across the congregation at Riverside, it's clear that the world has come to Budapest! And we know this is true for many cities across Europe."
And the Buckleys love to hear of internationals finding Christ at Riverside as much as they enjoy hearing stories of those who grow in their walk with God while attending Riverside even for a season.
We Desire to Encourage and Support IC Planters and Pastors
As they were planting Riverside in Budapest, the Buckleys appreciated the help they received from seasoned veterans within the FEIC network. This showed them first-hand the value of the FEIC network.
"Leaders like the Hendersons and the Pierquets really helped to answer our questions as we grew and stepped out into new areas of ministry," said David.
"And as we take on this leadership role, one of our desires is to do the same. We want to encourage and support those planting or pastoring international churches as well as help facilitate FEIC connections and share resources and strategies of international church ministry."
David, a native of Pittsburgh, PA attended Bethany Bible College in California for his undergraduate degree and Trinity Evangelical University for his Master of Divinity. Karmi, a native of Wisconsin, graduated from North Central University with a degree in elementary education.
David and Karmi have been married for 29 years and are the parents of Weston and Jillaine. Weston is a senior at North Central University and will graduate with a degree in Business this May. He will also get married this summer to his fiancée, Katie, who is a recent graduate of NCU and a teacher in the Minneapolis area. Jillaine is a sophomore at North Central University where she is studying Intercultural Studies. She hopes to serve in the Arab World in the future.
To reach the Buckleys you can email: [email protected]