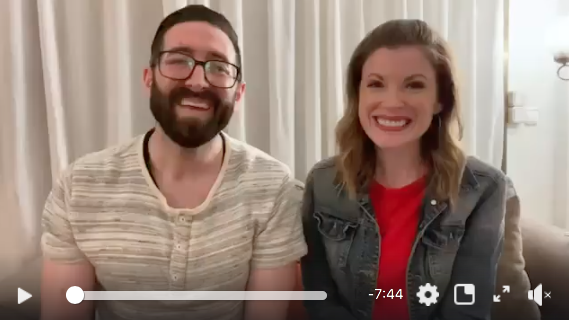 Lockdown in Barcelona: John and Brandi Carrano
Locked In But Not Locked Out … FEIC Member Churches Thrive During COVID-19 Lockdown
As the COVID-19 pandemic swept through Europe months ago, national lockdowns became the norm. Government officials restricted individual movement and group gatherings to minimize the spread of the virus.
But that hasn't stopped the church from being the church!  FEIC member churches across Europe – and even Northern Africa – continue to meet and minister online throughout the lockdown.
Over the next few days, the FEIC communications team will release a series of brief interviews with a number of pastors from our member churches on how they are coping with lockdown, how they are keeping ministry going, testimonies of what God is doing in their church and city, and what they've learned through this unprecedented experience.
We hope you enjoy this series we're calling: 'Locked In But Not Locked Out … FEIC Member Churches Thrive During COVID-19 Lockdown'
Jeff Slaughter for FEIC
Lockdown in Barcelona: John and Brandi Carrano
John and Brandi Carrano pastor ICB Spain in Barcelona.
FEIC: How are online services going for your church? What kind of engagement are you getting? What has surprised you about having services online?
John and Brandi: Yes we are! We have been shocked by the engagement, around 3500 devices a weekend, estimated listeners at 8-11k, so thats a HUGE amount of growth from our previous in-person attendance. It's been a TON of work for the media, tech, worship & communications teams especially. It's forced us to develop a production team, and we intend to keep an online campus even after we return in person, which was a 'future dream' that this situation fast-forwarded big time.
FEIC: Since you started having services online, what have you learned that works and doesn't work?
John and Brandi:
We've learned that authentic is more valued than perfection.
We've also learned that delegation that wasn't done before showed up HUGE when this hit. Our teams were used to 'just getting it done' but this has highlighted the need for expanded teams and delegation to carry the weight of the new challenges.
We've learned that there were huge opportunities that by God's grace we were capable of, but we didn't know it because we had gotten 'stuck' in some areas with the 'week in week out' of what we were already doing. Makes us wonder what other questions we need to be asking, and not to wait for forced situations to take bigger risks.
We've learned that God's Grace is sufficient, as we were scrambling and had no clue really how to do this online. We've learned that people are more likely to 'send a link' than to invite a friend to a physical building, so online ministry is a huge opportunity to reaching people, while NEVER being a substitute for face to face community.
FEIC: Can you share a testimony or two about what God has done for you, your family and your church during this time?
John and Brandi:
Our family is closer than ever, kids seem to be thriving and their behavior and attitudes have improved as we are their primary influence vs. secular school.
God has provided financially at every turn for us and the many ministries here. It was very scary at first, but he has provided every single need.
We get messages every week from people accepting Christ, listening from around the world, 'watch parties' with their family and non-saved friends… just really cool stuff. We MISS our normal Sundays, but there's no doubt this time is expanding the kingdom at an exponential rate.
FEIC: Do you and/or your church have any specific prayer requests you would like to share?
John and Brandi:
We ask for prayer like everyone we're sure, for wisdom as we 'descale' out of this thing. It's going to require huge adjustments, and we just don't know what that looks like yet.
Please pray for unity on our team and for the Lord to continue to put everyone in place for the work to advance.
Please pray for an even greater harvest of souls, and for MANY to know him.
Pray for our families with kiddos as the homeschool and work realities are pretty real right now.