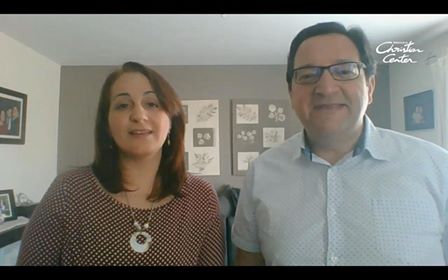 Lockdown in Brussels: Daniel Costanza
Locked In But Not Locked Out … FEIC Member Churches Thrive During COVID-19 Lockdown
As the COVID-19 pandemic swept through Europe months ago, national lockdowns became the norm. Government officials restricted individual movement and group gatherings to minimize the spread of the virus.
But that hasn't stopped the church from being the church! FEIC member churches across Europe – and even Northern Africa – continue to meet and minister online throughout the lockdown.
The FEIC communications team has conducted a series of brief interviews with pastors from our member churches on how they are coping with lockdown, how they are keeping ministry going, testimonies of what God is doing in their church and city, and what they've learned through this unprecedented experience.
We hope you enjoy this series we're calling: 'Locked In But Not Locked Out … FEIC Member Churches Thrive During COVID-19 Lockdown'
Jeff Slaughter for FEIC
Brussels Belgium: Daniel Costanza, Brussels Christian Center
Daniel Costanza and his wife, Antonella, pastor Brussels Christian Center and have been producing online ministry opportunities since the Belgian government put the country on lockdown Wednesday, March 18. 2020.
FEIC: How are online services going for Brussels Christian Center? What kind of engagement are you getting? What has surprised you about having services online?
Daniel: "It is going very well. We have a Wednesday night live and a Sunday morning service. We have been able to observe a significant engagement on the part of our community of believers. They are eagerly waiting for the next one! And informing their friends about it. My surprise has been that our folks really desire to stay connected and that they have the potential of augmenting the visibility of our church."
FEIC: Since you started having services online, what have you learned that works and doesn't work? Anything you can share could be helpful to someone else.
Daniel: "Yes… quite a few lessons. To keep the interest of our audience, we need variety. So we try to include worship, testimonies, a teaching and a time of prayer. Also involving our church people with their participation (featuring their ministries, whatever ages)."
FEIC: Can you share a testimony or two about what God has done for you, your family and your church during this time?
Daniel: "This time has allowed me to come to a deeper appreciation for all the things we usually take for granted, also spending more quality time with my family and realizing how much we need the spiritual, prayer support of our church family. I have been touched to see the level of engagement of prayer/intercession on a daily basis from our church people. God is stirring many hearts and binding us together in a new level of Christian love and caring for each other."
FEIC: Do you and/or your church have any specific prayer requests you would like to share?
Daniel: "Yes. That God would give us wisdom as we start our way to de-confinement and maintain the positives sides (zeal, engagement, prayer, spiritual alertness) of this experience as we gradually move back to our normal life."