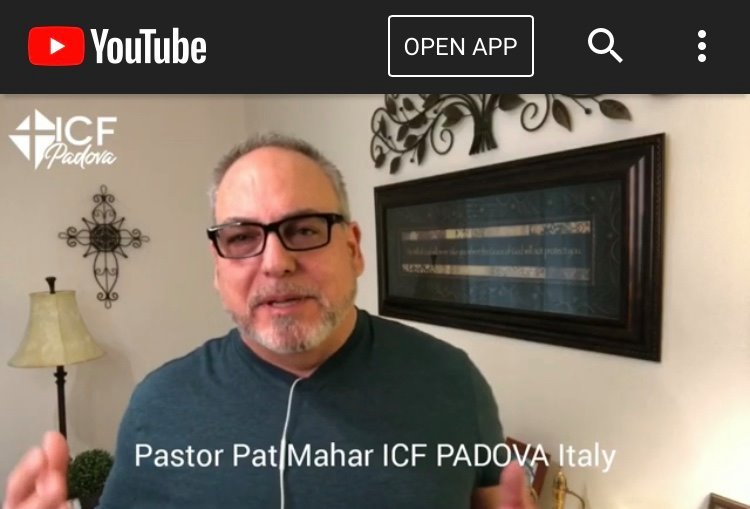 Lockdown in Italy: Pat Mahar
Locked In But Not Locked Out … FEIC Member Churches Thrive During COVID-19 Lockdown
As the COVID-19 pandemic swept through Europe months ago, national lockdowns became the norm. Government officials restricted individual movement and group gatherings to minimize the spread of the virus. 
But that hasn't stopped the church from being the church!  FEIC member churches across Europe – and even Northern Africa – continue to meet and minister online throughout the lockdown.
Over the next few days, the FEIC communications team will release a series of brief interviews with a number of pastors from our member churches on how they are coping with lockdown, how they are keeping ministry going, testimonies of what God is doing in their church and city, and what they've learned through this unprecedented experience.
We hope you enjoy this series we're calling: 'Locked In But Not Locked Out … FEIC Member Churches Thrive During COVID-19 Lockdown'
Jeff Slaughter for FEIC
Northern Italy: On Lockdown Since February
The northern region of Italy from Milan to Venice was the first area of Europe to be hit hard with COVID-19. FEIC member churches ICF Padova and Life Church Milano were two of our first member churches affected and have been on lockdown for the longest period.
In the interview that follows, Pat Mahar, who with his wife, Brenda, pastor ICF Padova, shares his experiences. 
FEIC: How are online services going for ICF Padova? What kind of engagement are you getting? What has surprised you about having services online?
Pat: "Our last service together as a congregation was on February 23rd. So it's been nearly three months since we've had a service together. Our first Sunday online was no frills and only on Facebook to just bring encouragement and a short message. We have since become more polished and are on You Tube, Facebook and IGTV (Instagram). Aside from that, I have developed a  Whats app closed one-way communication group which has been strategic for important communication to our congregation. We also post a copy of the church 'You Tube' video to that platform, so there is no reason for anyone to not get the communication.
I also organized what I call, "Care and Prayer Teams" with seven leaders who have a group of 7 to 10 households that they connect with as an extension of me. 
Our engagements online are conservatively 4 times of what the Sunday morning attendance would be. And this is only from what we can see. 
I have been surprised by the spread of the word of God like a bush fire through the airwaves."
FEIC: Since you started having services online, what have you learned?
Pat: "I feel that keeping the entire service under 40-45 minutes is best. Multiple live presentations on many platforms is sensory overload. People tend to shut you off.  I will probably continue to use video in some fashion when we do finally come back in the building."
FEIC: Can you share a testimony or two about what God has done for you, your family and your church during this time?
Pat: "During this time of isolation, I have been alone, since my wife Brenda was locked out in Greece when she went there for the baby shower of my daughter. It was God ordained, since the baby was delivered 2 days after she was locked out of Italy. 
I have learned during this time alone that I have heard the voice of the Lord much clearer than ever before. I have not turned the TV on much, and news was out of the question and I have not been online half as much as usual.  
Our family has always been a close, but this kind of thing instills the need even more to be together and engage with each other. 
One of the things that has been a great source of encouragement are the notes, emails and calls I constantly receive checking on me. I know that hundreds are praying for me and our family. There were many times when I would drop into Facebook prayer meetings and churches would tell me that they just finished praying for Brenda and me. This has sustained me in the close to 80+ days I have been confined." 
FEIC: Do you and/or your church have any specific prayer requests you would like to share?
Pat: "My biggest request is to get my wife back to Italy. Please pray for our church: though a few have suffered a lot, pray for more of a kindred spirit when we come back together." 
Lockdown update…
The government is allowing coffee shops, restaurants and hair salons to open on May 18th.  But all regions remain closed and there is still no talk of opening airports before June. And no mention of churches yet.