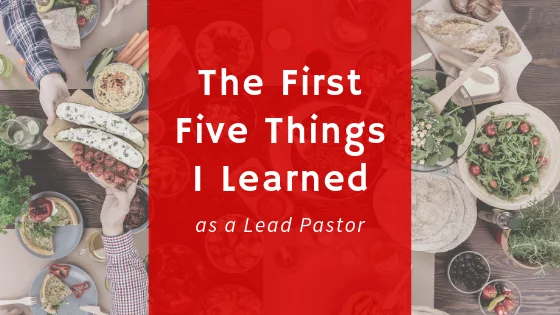 The First Five Things I Learned as a Lead Pastor
By Kelly Delp
Two years ago today – I remember it so clearly. The day I became a lead pastor. I remember laying in bed the night before, unable to sleep. I remember standing in front of that room full of people, wondering if they would accept me, if I would know what to do to lead them. I had so many ideas – so many solutions to problems that seemed so easy.
The reality was going to be so much different than what I expected.
If you have ever become a pastor, or if you ever do – it seems to me it is rarely what you think it is. It is, perhaps, much like choosing to have a child by adoption or birth or like marriage – committing yourself to a people before you know everything there is to know. It is saying 'yes' before you have any guarantees on how it will go.
There were certainly some unforeseen challenges in the road that would lie ahead of me two years ago on this day, but there were a few lessons I learned very quickly. A few things I did right from the beginning – a few things I have encouraged others to do as they step into their first pastorate.
1. Establish rhythms of rest and health from day one
At my very first staff meeting, the very first item on our agenda was determining our day off. Having grown up in the home of a pastor, and having been in ministry myself for some time, I have seen the effects of the pressure of always being 'on.' I have also seen the benefits of protected time off. At our first staff meeting, we decided that Fridays would be our day off. We committed to one another that we would not contact each other about work-related things except for emergencies. Fridays are a day that we rest, enjoy our families or friends, spend time enjoying our city, and resetting our hearts. We fiercely guard this day against work.
Another thing I did right at the beginning was join a gym right away. The human body has mechanisms in place to protect us in times of stress. If the adrenaline that presents itself in stress doesn't have an outlet, it creates chaos in our bodies. I began a workout regimen that has brought me not only an outlet for stress, but a thing to call my own. I walk in, put my headphones in, and disappear for about an hour a few times a week.
Last spring I had a hurtful experience, and recognized that my reaction to that experience was much more emotional and painful than what is normal for me. I examined my life and connected the fact that I hadn't been to the gym in a couple months. I have learned (over and over again…) that carving out time to keep my body healthy, to keep my mind sharp, and to fully enjoy the gifts God has given me makes me a better leader and increases my capacity to hear from God.
2. Take it one step at a time
I remember walking in the door and taking a mental inventory of all the things I wanted to do. I had the benefit of having been part of leadership at my church for years ahead of my installation as lead pastor, so I was bursting with ideas. When I took the reins, I quickly learned that all of the hidden administration and issues were going to take much time I had hoped would be used for innovation. I was very quickly completely overwhelmed with the mountain before me – the structure and practical things that needed to be re-evaluated.
My team and I quickly learned that there was no way to tackle all of these issues at once – we had to tackle one issue at a time. Our challenge in those early days was to figure out which things could exist in maintenance mode for a while, and which things needed trauma surgery.
Everyone I've talked to who has stepped into a lead position has been quickly overwhelmed in the first weeks and months with many things. My experience is that this can be burdensome to the point of freezing you. It can seem insurmountable – but just do the next thing. Not everything – just the next thing.
3. Release people with joy
People will leave your church. People will leave when you become the pastor because you are younger than the last person, or older, or you aren't married, or you are married. (Or, in my case, if you are more female than the last guy.) People will leave because the music is too loud or too quiet, because you pray too much in service or not enough, because you offer too many events or not enough events. People will leave your church. This does not make them bad people.
I see so many pastors who demonize or question the motives of people who leave their church. I am thankful for a mentor and coach who says often that it's okay for it to hurt – it *should* hurt if you have the heart of a shepherd and deeply love your people.
I do not want to lead from a place of fear – I want to lead from a place of joy and faith. When someone leaves and I begin to feel anger towards them or I begin to feel personally attacked, I quickly realize that this is fear talking. I am afraid that their contributions – their service in the kids ministry or their tithe check or their presence that brought us joy – that it is irreplaceable. It sparks a fear in me that I am not enough – that this thing is going to collapse person by person.
I have to trust that if God is leading someone on, they are just as capable of hearing from God as I am. The same Spirit that speaks to me, speaks to them. I have to trust the Spirit's working in their lives just as I trust it in mine. Of course there is a right way to leave a church (talk to the pastor, support the leadership even in transition, don't try to take people with you) and a wrong way (opposite of the above). But people will leave. Love them in their leaving and bless them as they go.
4. Schedule guest speakers
The first few weeks of my new role felt like a whirlwind. The day after my installation, I took the former lead pastors who had been friends and mentors for many years to the airport and bid them farewell. Tuesday was our first staff meeting as a new team. Wednesday I went to the airport to pick up a new staff member. Thursday I remembered I had to write a sermon for Sunday. The whole week felt like pain and joy and just trying to get my feet under me. When I got home from church the next Sunday I breathed a deep sigh of relief – we had made it. Then the slow realization…I have to write a sermon again this week. And again the next week. And again the week after that.
This role contained so much more than I thought it would. So much more than preaching every week. I love preaching – I love our people and I love praying for them and bringing a word to them each week. But I learned quickly that having a week off allowed me to focus my energy on other things throughout that week. It gave me a week every month to hear the word come forth from someone else, to receive from what the Spirit was saying to them.
I preach about three weeks a month and have someone else preach once a month, in general. I love that my people get to hear from people other than me, and that space gets carved out for the Spirit to speak through other people. If you've never preached every week, I highly recommend scheduling some different people to preach regularly.
5. Eat with your people
Early on I decided I would say yes to as many dinner invitations as I possibly could. I don't know why I decided this at the time – I suppose I just thought it's what a good pastor does. I grew up on the other side of this as the daughter of a pastor, and I remember how often we were invited to eat at other people's homes.
What I learned the very first time this happened, was that everyone has a story. And there is no way to know these stories based on interactions on Sunday mornings. As I began to share meals with the people in my congregation, it began to shape the way I preach. When you hear about the pain of rejection people have faced from their parents, it changes the way you present God as a loving Father. When you know there are people who have dealt with severe illness, it changes the way you preach about faith and healing. When you know there are people from a culture where the pastor is never wrong, never vulnerable, it changes the way you talk about your own doubt, your own disappointment. When people open up to you about their marriages, their addictions, the massive mistakes in their past – it changes your understanding of these people before you each week.
So much of the faithfulness of God is revealed over tables, over food. Breaking bread together – literally, in my context – does something so special and so spiritual. When you begin to hear the stories of where people have come from, where God has brought them, how God is revealing himself to them – it creates a deep love in you for His people. It encourages your own faith, because you remember that the Spirit doesn't depend on your good pastor skills – pastoring is a gift in which we partner with God, and in which God allows us to share in the joy of transformation and redemption.
Two years in, this is still the most wonderful and difficult job I could have imagined for myself. I am still at the beginning – I have so much to learn. I am so thankful for the gift God has given me in the people I get to pastor, and for the grace He gives each of us who are called to love others well.
Kelly Delp is lead pastor at The Bridge International Church in Paris, France. You can read more of Kelly's writing at: www.kellydelp.com