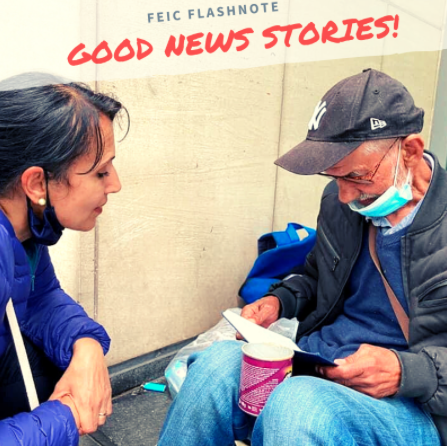 Dear FEIC Family,
One of my favorite things about the FEIC network is the privilege we have to walk together in international church ministry: to share one another's joys and burdens, to celebrate the wins together and to mourn the losses together.
In fact, the Apostle Paul could have been writing directly to us in 1 Thessalonians 5:11 when he wrote, "Therefore encourage one another and build up one another, just as you also are doing."
In light of this, when Larry asked me to share something for this edition of the Flashnote, my first thought was to assemble a brief report on some of the good news stories happening among some of our member churches.
Oh – and I know there are MORE good news stories out there. If and when you have one, please share it on the Facebook page. You never know how your good news story will encourage or inspire someone else!
I hope you enjoy these brief reports.
Jeff Slaughter
FEIC Communications
Jose Almarza, All Nations Christian Fellowship, El Puerto, Spain
"We are thankful for the fact that we have been meeting in person since the beginning of July last year. Very few people have stopped attending church and we have even had more people. Also, we have been given a permit to hold the Sunday services outside the church. In this way we'll be a public testimony to the people around us and we don't have any limitations on sitting capacity."
Daniel Costanza, Brussels Christian Center
"A year ago, a theology student from Pakistan, happened to walk in the streets of Brussels downtown, when he was suddenly confronted to a scene that shocked him: so many homeless, forgotten people living in utter poverty and hopelessness.
After doing a few efforts to help them on his own, he made an appeal to our church folks. To my surprise, in the midst of an alarming, unprecedented pandemic, the Lord touched the hearts of many volunteers, who formed what is now called BCC Compassion Team, including the weekly preparation of hundreds of hot meals, the distribution of clothes and other useful articles to these people, including refugees in various camps in Belgium.
Beside sharing God's love through these tokens, so many have been touched by the genuine expression of compassion, prayers and the message of hope shared by our team on a weekly basis, rain or shine!"
Joel VanBriggle, Redefined Church
"One day, we were at our storefront location and a woman and her daughter paused at our "signs in the front window, and their delay allowed me just enough time to peek out and greet them. This began a friendship that has grown and every day, we are seeing a tenderness that is giving room for an openness for God to move. In a very real way, we were positioned to help her and her family as they have struggled through this difficult season. We are praying for continued breakthroughs and for a generational shift in their family."
John and Brandi Carrano, International Church of Barcelona
Brandi's big CAT scan came back super scary, but after every area of concern was tested separately she is clean of cancer!
COVID is really bad here again, so we're back online-only last week and next, but 62 came to Jesus for the 1st time or a fresh start last weekend online. Praise Jesus!
Eleven couples from our premarital counseling group are getting married this year, and 2 of the future grooms have accepted Jesus, one being baptized this month!
Paul and Lori Travers, True Life KMC
I am grateful for what has been happening with our church family. Their continued coming together and remaining focused in a time when so much disconnection is all around.
Today our church, along with other churches rallied together to get supplies for the flood victims in Spangdahlem and other locations in Germany.
I am also grateful for God's faithfulness during this difficult season. He has continued to show me his love, and that He is in charge of what is happening.
Daniel West, Life Church Portugal
Jessy and Jijo John along with their two boys, Matthew and Timothy are helping LIFE Church in a 2-year assignment.
LIFE Church Lisbon had its first baptism service and baptized three men from three different countries:Uganda, Portugal and India.
On July 4 LIFE Church had their annual church picnic and over 20 attended.
Bernd Armbruster, Aletheia International Church Munich
"Last December we had a time of praying for each other. During that time, one of our members was about to make a huge decision (moving across continents). The person praying for him felt that God was giving him a message to check his motives and to surrender this decision to God. He even said to him: 'I believe God is telling me that your son's education cannot be the reason for you to move back to your home country.' The person started crying, since he had the exact same conversation with his wife just the night before. The result was that he realized he was only going after worldly realities and gave in to worldly pressures, but did not seek God's direction on this matter. So, he decided to not move until God told him to. Three months later, he did decide to move; but now no longer because of worldly pressures. Now, because God had clearly spoken to him about 'moving back to his home country.'"