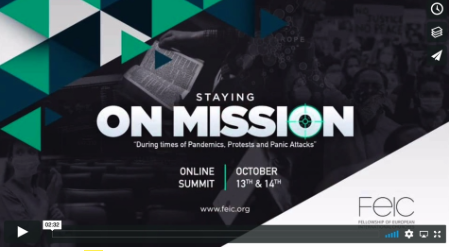 Our 2020 FEIC SUMMIT Registration is now OPEN!
Hello FEIC Family!
Our 2020 Virtual FEIC SUMMIT registration is officially open!
Please take a moment and watch this week's SUMMIT video here as we share all the details you need to know.
So, here's the schedule:
Tuesday – October 13, 2020
19:00 (CET) Evening Session with Rod Loy
Wednesday – October 14, 2020
10:00 (CET) Ladies Tea
14:00 (CET) Breakout Session 1
– Navigating Health in a Season of Uncertainty – with Cara Tyler
– Compassion Pastor – with Ariel Rainey
– Family Matters – with Pat and Brenda Mahar
15:30 (CET) Breakout Session 2
– Technology in Transitions – with Jason Brown
– Kids Ministry: How to Prepare When There Is No Plan – with Kay Farmer
– Leadership in Times of Crisis – with Paul Traver
19:00 (CET) Evening Session with John and Brandi Carrano
Note: zoom links to these sessions are posted on our Inside FEIC private Facebook group and in the weekly Flashnotes.
We're praying for you and your team this week!
Larry