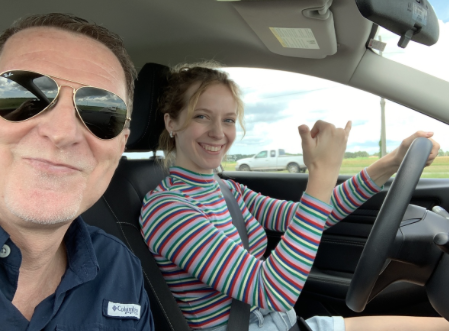 Hi Friends,
We pray you're staying healthy and enjoying these summer days!
As Melinda and I are taking a few days to rest this week and spend time with family, we pray you're able to enjoy some time to recharge your batteries before our fall schedules begin.
One of my priorities during our visit to the states is to teach our daughter Olivia to drive!
She's had her learners permit for a couple of years but obviously couldn't use it in Europe to gain needed experience. So, we're trying to cram a years worth of training into a week!
As you can imagine, it has stretched her and me as we've made some fun memories.
We've also had many conversations about theory versus practice. No matter how much time is spent studying driving lessons, road signs or looking at graphics, there is no substitute for the lessons learned from navigating intense moments on the road!
This whole experience has reminded me a lot about the real life lessons we learn from trials and challenges that we all go through.
James says in chapter 1 – "Consider it pure joy, my brothers and sisters, whenever you face trials of many kinds, because you know that the testing of your faith produces perseverance. Let perseverance finish its work so that you may be mature and complete, not lacking anything."
We could all preach a good sermon on this subject but we just want to encourage you today – let's embrace every moment in life that makes us more mature and complete.
We're praying for you and you're team this weekend.
Larry