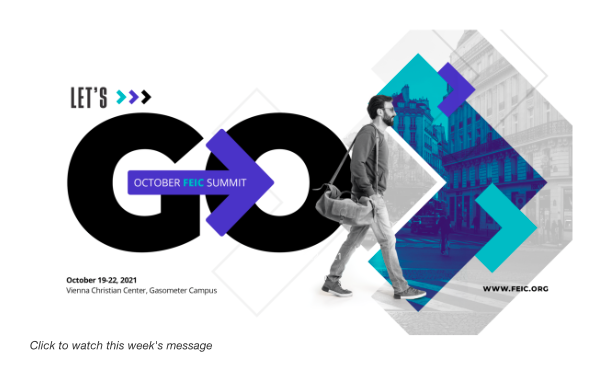 Please click here to see this week's Flashnote video
FEIC 2021 Summit
October 19-22, 2021
Hey everyone, we can't wait to be together in October and are so excited to see everyone again. Please help us by registering today for the Summit. Cost is 100Euros per person and you can pay on-site when you arrive.
Take a moment to watch this week's message for more information to help you plan.
We have listed below hotel recommendations that are close to the Campus as everyone is responsible for their own lodging.
Hotels in walking distance of Gasometer Campus:
Roomz Vienna Gasometer located around the corner from Gasometer Campus.
IBIS Budget Sankt Marx located a few blocks from Gasometer Campus.
Hotels on the U3 line:
Hilton Vienna Park located at Landstrasse a few stops on the U3 line to Gasometer.
Aldano Apartments Vienna functions more like an Airbnb and is located 2 blocks from the U3 Line, a few stops from Gasometer Campus.
Hotels with more than 1 public transport transfers or via car:
AT Hotel Doppio located up the hill from Baumgasse Campus. Public transport Tram 71 to U3 stop Gasometer
Imperial Riding School Renaissance Vienna Hotel located near Rennweg station, 1 schnell bahn stop to Landstrasse then the U3 to Gasometer.
Praying for you and your team.