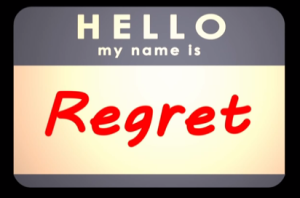 Matthew West recorded a song a few years ago titled "Hello, My Name Is" where the lyrics reflect emotions from decisions we've all made in life.
The opening of the song says "Hello, my name is regret… I'm pretty sure we have met… Every single day of your life, I'm the whisper inside that won't let you forget."
We've all been there before! How many times have you wished you could go back or hit the "undo" button?
We all have regrets that we cannot change yet life continues to move forward.
Scott Hagan said, "If you think for too long about a missed opportunity, chances are you will miss the next one too." That's a good word for us.
Great leaders learn from mistakes and turn them into information that changes the future.
So today, let's ask God to forgive us, let's protect the progress we've made and embrace the future moments He gives us today.
We're praying for you and your team this weekend!
Larry