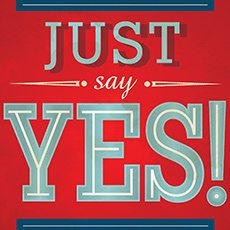 As we prepare for the Christmas season, I've been studying more about the life of Mary, the mother of Jesus.
We all recognize the eternal significance her encounter with the angel and prophetic promise to give birth to Jesus but all I can think about are the emotions she and Joseph must have felt when asked to be the instruments God would use for such a life-changing event.
In fact, Mary was so surprised by the angel's news in Luke 1:34 that she asks, "how will this be?"
It was a pretty good question considering she was not married. In fact, she was just a normal teenage girl trying to enjoy this exciting season of her life with the man she would marry.
To be honest, there have been many times I didn't understand what God was doing yet I knew He was speaking to me. How do we respond in moments like that?
Just say YES! There's no way Mary fully comprehended the realities of that God moment but her response in Luke 1:38 was a simple YES.
Luke 1:38 "I am the Lord's servant," Mary answered. "May your word to me be fulfilled."
I'm so thankful for God moments. I'm thankful God let's us be a part of what He's still doing in the world. We may not fully understand the realties of what He's doing but let's say YES!
Praying for you and your team this weekend!
Larry